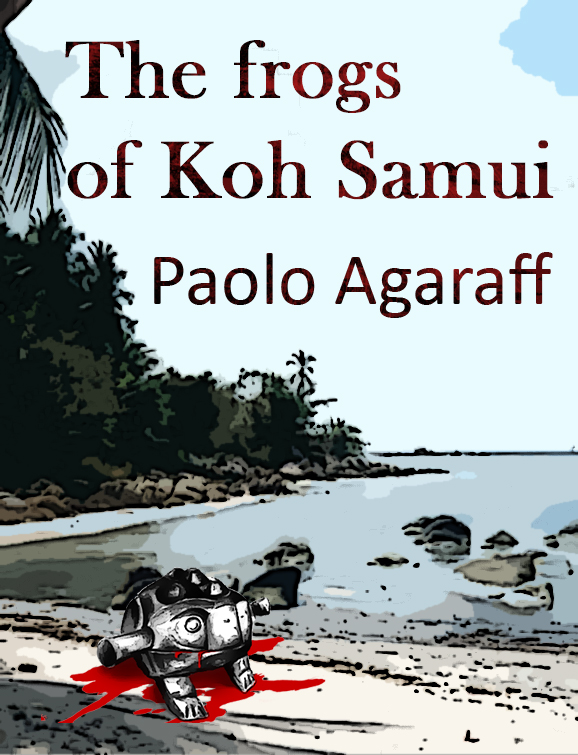 Waiting for the new Pelagic & Aleifr novels, the lucky reader who happened to be checked in here, at the crossroads of the world, can enjoy the only book of our father/cousin that has been translated to English: The frogs of Koh Samui.

What might worry three Italian pensioners dedicated to a well earned rest on holiday in a place like Koh Samui island in Thailand? Convulsions during a swim after an abuse of beer? Or rather a heart attack caused by an excess of viagra in old age? None of this. Nor anything imaginable. Because these bold/old men, anticipate all that might be expected on a holiday in the Far East, but not becoming involved in rituals and blasphemous cannibal orgies in a scenario worthy of Weird Tales, including primeval horrors, mysterious islands, and almond-eyed maidens, as fascinating as they are dangerous. The three main characters, Alessio, Jack and Filippo are a mismatched trio of occult investigators: a former trader, an ex-lawyer and a retired civil servant, friends - and enemies - since youth. Our heroes face all kinds of danger with the disillusionment and cynicism of old age.

Valerio Evangelisti, an Italian science fiction author, winner of the Urania Award (the most important SciFi award in Italy), and translated all over the world, said this about the novel: "If you had told me that a Lovecraftian theme would translate into a hilarious story, I would not have believed it. But here is the monster looming, mucilaginous as befits: a narrative of fantastic humorous tone."